Would you serve more customers? Open a new office? Expand your marketing efforts?
Let Spencer Savings Bank help take your business to the next level. At Spencer, business lending comes with less red tape, faster approvals and personalized service. You bring your vision, and we'll bring our expertise to match you to a business loan that fits your needs. Speak with a local lending specialist today!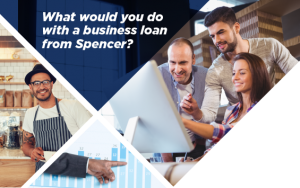 BusinessEdge® Express
Get fast, reliable access to working capital, with loan amounts up to $250,000. Manage your cash flow more freely, increase your buying power, and keep your business ahead of the competition.
Commercial Loans
Secure up to $7.5 million! Whether you're looking to finance a commercial property, manage your cash flow, purchase assets or upgrade equipment, Spencer has a commercial loan to help you achieve your goals.